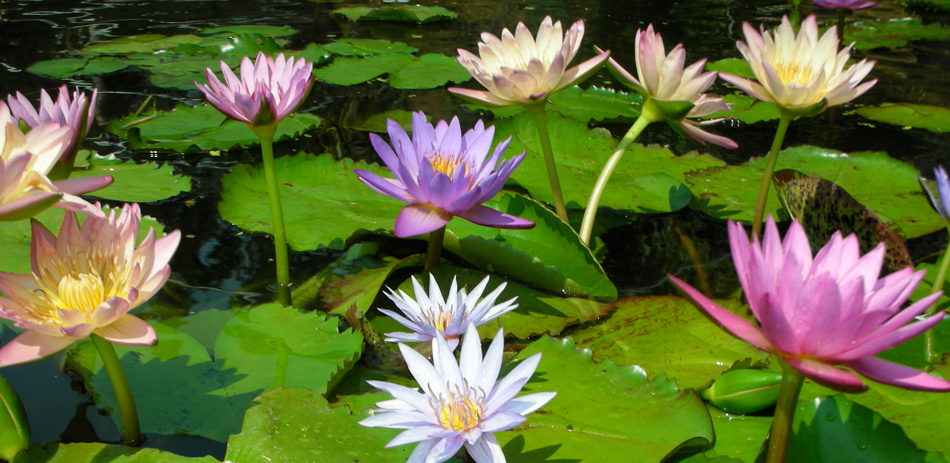 Tropical water lilies are the sub-set of the water lily family that thrives in warm weather. In North America, these plants will go dormant during the colder times of the year and start blooming during the first warm days of Spring.  During cold winters, the tubers of these water lilies must be removed from the pond and placed indoor where they will not perish to do cold temperatures. In regions with warmer winters, the tropicals can remain in the pond.
Tropical Water Lilies Characteristics
Flowers: The most common colors are white, yellow, purple, lavender, pink, yellow, autumn, green and blue. Flowers will rise above the water surface several inches and close its petals during nightime.
Growth: Growth in tropical lilies is always vertical and the stems and flowers grow from a single crown. The root system should be planted in a pot for easy handling during winter.
Leaf Pads – Tropical leaf pads are round and thin, with scalloped edges. Colors are usually green, brown, bronze or maroon.
Propagation – This plant propagates by tuber division or from seeds. In the viviparous kind, tropical water lilies will propagate from its leaves.
Here are the different varieties of Tropical Water Lilies generally available for sale in the US.
Tropical Autum Shades Water Lilies (Day Blooming)
Afterglow
Albert Greenberg
Coral Sky
Tropic Sunset
Tropical Blue Water Lillies (Day Blooming)

August Koch
Avalanche
Bagdad
Blue Aster
Blue Beauty
Blue Capensis
Blue Spider
Caerulea
Colorata
Dauben
Laura Frase
Leopardess
Margaret Mary
Pamela
Star of Siam
Star of Zanzibar
Wood's Blue Goddess
Tropical Blue and Green Water Lilies (Day Blooming)

Green Smoke
Moonbeam
Southern Charm
Tropical Lavender Water Lilies (Day Blooming)

Key Largo
MME Ganna Walska
Orchid Star
Tropical Pink Water Lilies (Day Blooming)

Evelyn Randig
Hot Pink
Kathy Mclane
Miami Rose
Pink Capensis
Queen of Siam
Shirley Bryne
Tropical Purple Water Liles (Day Blooming)

Alexis
Dir George T Moore
Foxfire
Isla Morada
King of Siam
Lindsey Woords
Midnight
Panama Pacific
Purple Zanzibar
Plum Crazy
Rhonda Kay
Tanzanite
Tina
Ultra Violet
William Mclane
Tropical Red Water Lilies (Day Blooming)

Bull's Eye
Jack Wood
Tropic Punch
Ruby
Tropical White Water Lilies (Day Blooming)

Crystal
Innocence
Josephine
Marian Strawn
Rhapsody in White
Tropical Yellow Water Lilies (Day Blooming)

Carla's Sunshine
Key Lime
St Louis Gold
Stan Skinger
Trail Blazer
TROPICAL – NIGHT BLOOMING – PINK WATER LILIES
E.G. Hutchings
Mrs. Hitchcock
Rosa de la Noche
Texas Shell Pink
Tropical Red (Night Blooming)

Antares
Jennifer Rebeca
Red Cup
Red Flare
Tropical White (Night Blooming)

Juno
Trudy Slocum
Wood's White Knight